Have you ever met someone who would literally give you the shirt off his back if you asked for it? It's a pretty nice thought and I think people would have good intentions if asked, but let's get real for a minute: our clothes can sometimes be one of our priciest and most valued possessions, especially while we're wearing them. Sure, most of us go through our stuff once or maybe twice a season (if that) to donate our unwanted garb, but there's a difference between giving away old clothing and handing over something currently keeping you warm.
I'm thankful to share that I personally know someone who is so selfless that he's given his jacket—in the middle of winter—to a man shivering on a street corner. That man is my brother and he is, by far, the most giving person I know. He would never tell you this story (I think we only found out because he showed up to our house one particular night without his recently purchased jacket), but he would repeat it a thousand times over. My brother is the type of person who (and honestly, probably has) gives away his last dollar if he knows it will help you somehow. He's the type of guy who packs extra food in his car just in case he runs across someone who's hungry.
Selfless is what comes to mind when I think about Chris, and the same holds true for his wife. Together, they are an unstoppable pair. They are steadfast in their love, faith, and eagerness to fulfill God's will—it's evident in everything they do.
So when they told us last week that they had some big news, I held my breath and waited for what came next.
"There's going to be a new baby in the family," my sister-in-law said. Before I could even speak she quickly followed with, "but it's not in the way you think."
Instantly I knew exactly what she meant. Tears of joy flowed as she explained what we already guessed...
My brother and his wife are expecting…they are adopting from Ethiopia!
The thought of adopting has always been on the table for them; it was something they both wanted and talked about before they even got married. So here they are, after continuous prayer and close to three years after they pledged their lives to each other; they are officially starting the adoption process.
Amanda's sister-in-law, Sarah, said it perfectly, "They vacillate between sheer joy and absolute fear. We tell them this is what it is to be expecting. Hearts are full and joy abounds. They are paper-pregnant."
Remember the tale above about of the guy giving away the jacket off his back? I personally know how much he hates asking for money. He'd rather give away all he has and figure out a way to make due, but now they're in a position where pride isn't an option. This is something they've fervently prayed for and are answering His call by pursuing it, no matter the cost. They know He will provide.
The problem is that there is a cost, and it's a pretty hefty one. To quote Sarah again, "But wouldn't you know that good things and sincere hearts and brave efforts don't always come free? In fact, this thing, as noble and loving and true as it is, actually costs quite a bit. More than a car, a wedding, or even a down payment on a house. Turns out, bringing home a baby from Ethiopia costs just around what some single income families make in a year. One whole year."
As much as I'd love to believe God would swoop in and personally hand them a check, that's most likely not going to happen. (Dear God, if you could prove me wrong just this once I would really appreciate it.) Since money (probably) won't be falling from trees anytime soon, my brother and Amanda are working for it.
They're selling Extracts for Ethiopia. It's 100 percent homemade vanilla extract made with pure bourbon Madagascar "noire" vanilla beans and triple distilled premium vodka. YUM!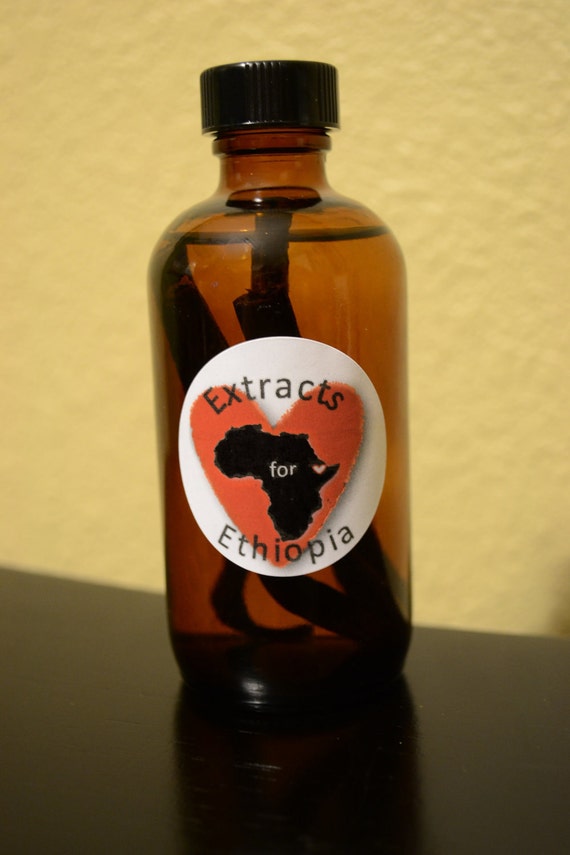 If you like coffee, Just Love Coffee Roasters is donating a large portion of anything purchased through their storefront.
And finally, they are accepting donations.
I've seen, first hand, how life-changing events can happen because of one single blog post, and if I need to host another virtual bake sale, I absolutely will! I just checked and this little blog of mine currently has 420 people subscribing via Google Reader. Not only am I shocked there are that many of your reading this (thank you!), but if you each donated just $10 it would pay for their Adoption Service Fee. How great would that be?
This is extremely exciting and very near and dear to my heart. I promise I won't bombard you with donation pleas in the future, but this won't be the last time you'll hear about this adoption (totally serious about a possible bake sale!).
If you're interested in keeping up with Chris and Amanda's journey or would just like to leave them some encouragement, check out their website and "like" their Facebook page!
If you end up donating or buying vanilla or coffee, please let me know! I would like to send you a personal thank-you note. Shoot me an email at jessicalynnwrites (at) gmail.com.